Simple Social Media for Your Divorce Practice
Social media is daunting. I've been immersed in the social media culture since MySpace launched when I started high school. Over the last 15 years, I've been in the weeds of each generation of social media evolution. For the last 10 years, Facebook has shown itself to be king of the hill and that includes everything from daily users to arguments on capitol hill. In this blog, I'm going to share my easy content gathering secrets and free tools you can use to have more activity on your social accounts while worrying about it less. 
I always recommend starting with an easy space to organize your content. Airtable is a free online software that allows you to have the organization of a spreadsheet while being able to click links, use a spellchecker, and easily track what has already been posted and what your upcoming posts are. 
"Sharing content from other divorce professionals is a great way to strengthen professional relationships."
As you can see in the image below with the Smarter Divorce Solutions content calendar, you're able to track your post copy, images you'd like to share, a planned publication date, the status of the post, and the type of content.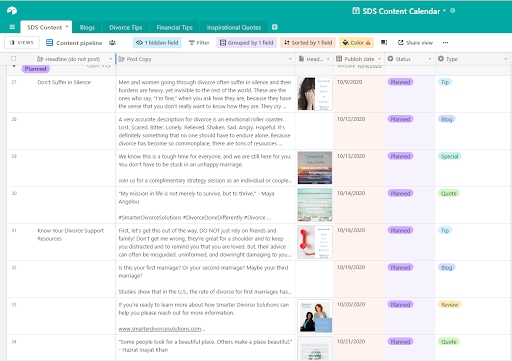 Now, this is getting a little ahead of ourselves. Let's first talk about content gathering and my suggested social recipe.
Content Gathering
I have a secret for you. Sharing content from other divorce professionals you're interested in partnering with is a great way to help strengthen that professional relationship. I recommend blocking an hour on your calendar during the week to go through the blogs that your "A" client would find helpful from local professionals and groups and adding the title, first paragraph, and blog link to your Airtable spreadsheet. The idea here is to present yourself as the divorce and financial expert by sharing helpful resources. This is a good time to mention that creating and sharing your own blogs is extremely helpful! If you're not the best writer but want to share blogs that link directly back to your website consider purchasing our Blogging Package.
If you're looking to step up your game and share more than just blogs, then I also recommend gathering financial tips, divorce tips, and empowering quotes that speak to you and your "A" client. I like doing this by blocking an hour on my calendar, going through the blogs I've already gathered, and pulling tips directly from there! Another great way is to Google search terms like "financial tips", "divorce tips", or "empowering quotes" and adding them to your Airtable content gathering spreadsheet. Don't forget to give the author credit by using a hashtag (#) with the writer's name and publishing site. That might look like this:
The Social Recipe
In a world where you have the bandwidth to focus on your social media, I recommend posting 4-7 times per week. My recipe looks like this: 
1+ Blogs Per Week (yours and other professionals)
1 Inspiring Quote (doesn't have to be directly related to divorce)
2 Different Tips (financial and divorce)
1+ Event Reminders, Reviews, or Other
Keep in mind, this recipe includes having branded graphics like the one below so you're creating brand recognition as well as showing yourself as the active expert. If you have an eye for detail and enjoy learning a new skill, Canva is a free source where you can easily create your own branded graphics by using tons of free templates. This is also a phenomenal task for creative office assistants, freelance graphic designers, or a virtual assistant.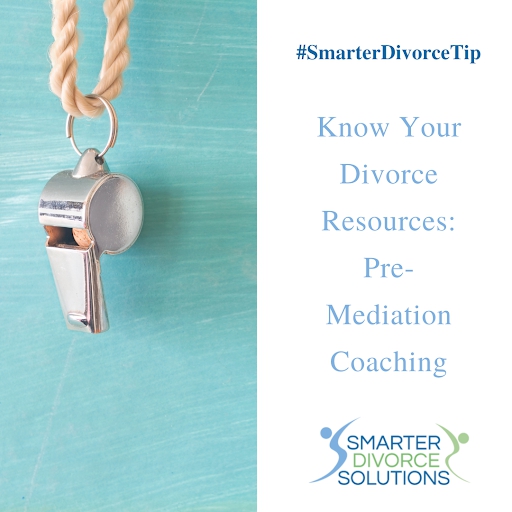 Please also keep in mind that it is very likely that potential clients will not interact with your posts, but they WILL be searching for you on Facebook to make sure you are a legitimate business. That is why this next step is so important.
Invite to Like and Follow
You should be inviting everyone that wants to support you and your business to like and follow your social media accounts. This is friends, family, colleagues. Everyone that has said to you "it's so cool what you're doing". This immediately widens your social reach without having to spend a dime.
It's Time to Post
A lot of people in the wealth management world have programs they have to use for social scheduling due to Compliance requirements. For everyone else, I recommend Hootsuite. Hootsuite is free to use with up to three (3) social profiles connected. This could be your Facebook business page, personal LinkedIn page, and business LinkedIn page, or any combination of accounts you have.
Now that you have blogs you want to share, tips that you've found, and quotes that speak to you. As well as (potentially) some graphics that have your logo and brand colors you're ready to get posting.
Remember, done is better than perfect. Just get started!
Want new articles before they get published?
Subscribe to our Awesome Newsletter.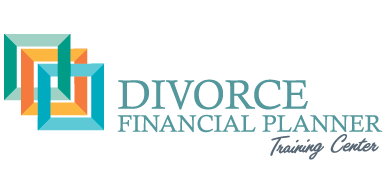 #1 trusted source for information & courses that will ensure your success as a Divorce Financial Planner.
Step-by-Step 12 month program for CDFA® holders who want to grow & sustain a profitable business.
Two Day workshop for Divorce Financial Planners to design your divorce niche & complete your roadmap to success!